---
With Christopher Hinton
Ongoing collaborations with Christopher Hinton (image). 
Christopher Hinton collaborations with Eve on Vimeo
Christopher Hinton Animations of works by José Evangelista and Stephen Parkinson performed by Eve from: The Art of Touching the Keyboard CD
Art of Touching the Keyboard on Bandcamp
---
E.V.E Absolute Matrix 
Video Installation by Gunilla Josephson
http://gunillajosephson.com/videowork/eve-absolute-matrix/
2009, 48:00
E.V.E Absolute Matrix is constructed from 86.400 carefully chosen and manipulated video frames from the 5 hour video footage of a studio performance with Toronto musician Eve Egoyan playing Inner Cities, a contemporary 5 hour epic for solo piano by composer Alvin Curran. In this video we see a woman's head/face persistently and over an extended period of time betraying a multitude of shifting facial expressions slowly moving into an inward mirror image of itself.
---
Ode – site specific installation
Created by Eve for the Tree Museum, Gravenhurst 2012 Exhibition: What is LandSite Installations by Mary Anne Barkhouse, Millie Chen, Eve Egoyan, Gareth Lichty and Warren Quigley. Performances by Alicia Marvan and Eve Egoyan. Curated by EJ Lightman and Anne O'Callaghan.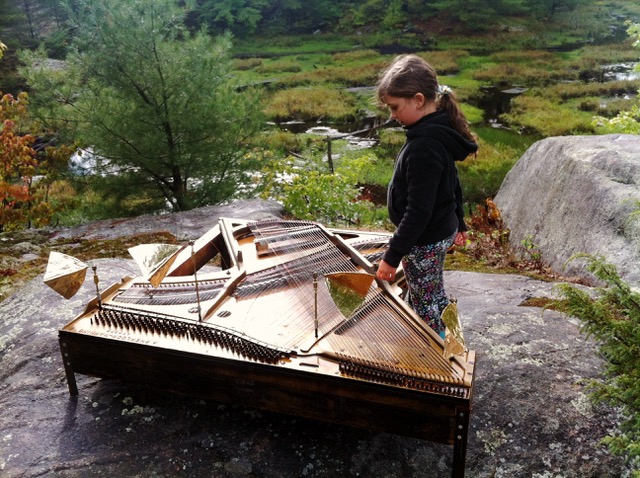 ---
Works for Disklavier by John Oswald
~ Homonymy (prepared disklavier, voice, movement and video),
This arrangement is based on a 1998 commission by the Société de musique contemporaine du Québec for chamber ensemble (no piano) and cinema. Composition, libretto, direction, animation, francophonic typeface design, and piano transcription by John Oswald. Piano preparations and piano performance composed by John Oswald with Eve Egoyan. 
~Palimpia (disklavier)
"I've just realized that I've never composed a piece for a regular piano, but, in ways that deviate extremely from Conlon Nancarrow's formidable canon, I have been rather obsessed with what a player piano can do. Working with pianist Eve Egoyan, I've now added to this obsession a new world of possibilities in which a player piano and a living pianist, interacting, can create a bionic symbiosis of performer and acoustic machine. Palimpia, as part of a rascali klepitoire that has spun off from the plunderphonics genre, begins with a familiar seed (which can be changed from performance to performance), which, as it is gradually revealed, is subject to various obfuscating and illuminating processes. Many thanks to Eve, to whom this composition is dedicated, for her constant curiovirtuosity." – John Oswald
~ ∆88
This is the premiere performance by pianist Eve Egoyan of composer John Oswald's ∆88 performed at the Music Gallery at Saint John the Martyr in Toronto on May 28thy 2011. Eve improvises with amplified fingers.