September Song – IN PERSON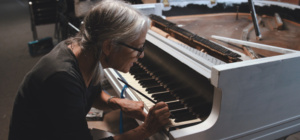 Heather Nicol photo by Brian Medina
Sept. 11 – Sept. 19th, Harbourfront Centre, Toronto. Book ahead for limited, registered timed entry. 
Created 20 years after the events of 9/11, 
September Song
 is an immersive visual and sound installation based on Heather Nicol's first-hand experience and lingering memories of that cataclysmic morning in Lower Manhattan. Haunting sounds, images and imagined scenarios distilled over many years are at the core of 
September Song
. 
I am honoured to have been invited to created piano sound worlds for this extraordinarily emotional and layered work.